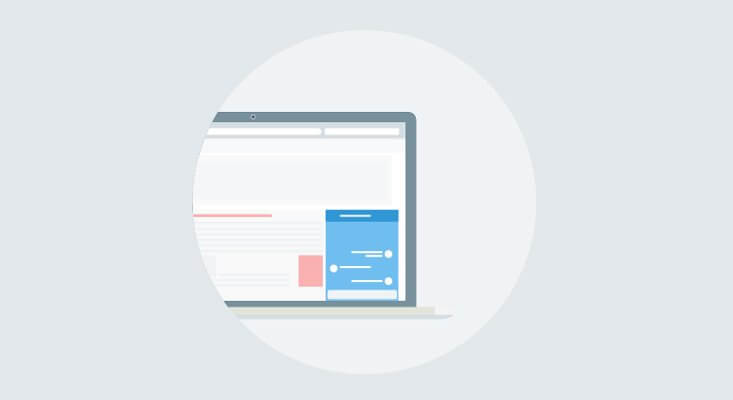 Instant interaction is what people seek if they frequently visit an online business.
More than that, people wish to experience a memorable customer service experience.
So, if your brand successfully delivers great customer service experience, you can encourage at least 73% of buyers to stick with the brand.
Understand this, new-age buyers expect from a company more than they did last year. So, it is not the promotions, discounts, or sales that will exactly lure them to your brand.
It's the service you deliver that hooks them to your brand. An experience which makes these customers your most vocal advocates.
In simple words, if you are a business owner and not doing enough to impress your customers, your chances of success are minuscule.
So the question is, what exactly should a brand do to build that successful yet memorable customer experience?
Emails make customers wait for an answer, while call support amplifies the waiting period.
The answer is simple in this case – live chat.

A recent study on the benefits of live chat shows that the call deflection rate with chat is 59%. Moreover, it also came to light that with live chat, conversions rise by about 20% and that people who use live chat are three times more likely to buy the product.
Besides these, there are four more convincing reasons why you should go for live chat implementation on your website. Let's take a look at them below.
#1: Get More Leads With Instant Responses
Imagine this: A person is searching for a seller online who specializes in delivering personalized goods. He finally comes across an online seller who fulfills his requirements. This is where the visitor gets keen to learn how much time will the seller take to deliver his order. Problem is, there is no instant point of contact for him.
Outcome? The seller loses a long term customer for its business.
Your work never ends at taking the business online. You need to ensure that your business gets approached even when it is online. And the best way to help your potential buyers reach you faster is live chat. Otherwise, you may end up losing more leads for your business.
With live chat, the help is instant. When you have the best live chat support tool on your website, you can answer questions (related to services, pricing, refund policy, delivery and so on). Your visitors can multitask and don't have to stop current activities. Being able to address the buyer's questions instantly speeds up the sales cycle, which eventually helps to close more deals quickly.
According to a study by Forrester, 29% of customers in the US showed interest in using live chat (note: this number is going to rise in the coming years).
The stat implies that people understand that they will get instant answers to their questions with the use of live chat. What's more, the experience for a website visitor can further be amplified with an efficient live chat tool. And your business can further qualify quality leads for the business hassle-free.
#2: Skyrocket Your Sales
Yes, it's true.
Live chat implementation also helps to skyrocket your sales in no time.


For that to actually happen, you need a live chat tool that is loaded with powerful features. Live chat features not only help you generate more leads, but also convert those leads into sales.
Let's take a look at some of the features below:
Proactive Chats
Visitors get stuck and feel confused about whether to invest in a product or not. That's when you should approach them proactively. Implement a live chat on your website to make sure you can reach your visitors when you see them stuck on a page for long. ProProfs Chat offers chat greetings that help operators initiate a chat in a strategic moment. Reaching out to visitors when they are stuck on a page for long gives them the impression that your brand cares and are ready to help them make an informed purchase.

Visitor Monitoring


Another feature of live chat software that can help you improve sales for your business is visitor monitoring. That's because when your operators get to know where your visitors are, which page they are browsing, and how long they've been on a page, they get an idea of visitor's purchasing intent.





Once that is clear, the operator gets an opportunity to build a personalized experience for such visitors so they can help them walk through the sales funnel.



Chat Routing


Route chats to different operators to keep the support queue going. You wouldn't like to miss out on a potential customer just because you couldn't get to them in time. Even when they reach out to you, there are chances of you not getting the opportunity to talk to them. That's because you may have others in the queue too.





With chat routing, you can make sure that your visitors make an informed decision and you get more sales for your business.



Mobile Support


Besides any other feature, know this – a live chat software that features the use of a mobile application can help a business get more sales.





You can easily lose customers for your business when you see queries coming into your support queue and operators are not sitting at their desks 24/7. However, if you have a live chat service like ProProfs Chat that supports the use of a mobile application, then your operators can manage incoming queries no matter where they are.



Announcements


Using a feature like announcements, you can let the visitors know about the upcoming sales, discounts, offers, product updates and more. This is a great way to prompt people into taking an action, learn about the offers, and complete a sale.



Integrations
With powerful integrations like CRM, you can store information on all your leads. It will help you start a custom marketing campaign for every potential customer with an email marketing tool integration like MailChimp. What's more, you can also integrate the live chat software with a knowledge base tool to provide answers to frequently asked questions.

In other words, this customer support tool offers speed and effectiveness which makes a business successful and positively impacts the bottom line.
#3: Make Support Cost-Effective

Compared to traditional call centers, live chat is cost-efficient because:
Waiting time or hold time for the customers is zero because help comes instantly.

There are no call-backs after purchase since the agent can offer assistance in real-time.

Agents are more productive as one executive can manage multiple chats simultaneously which means no need to expand the support team. When you use chat software like ProProfs, you know the issues faced by customers even before they hit the send button.
Also, the implementation of live chat isn't time-consuming as it takes only a few minutes.
#4: Capture Data & Know Your Customers Better
The use of live chat software also helps you understand your customers better.
How you may ask.
Well, besides the use of visitor monitoring, there is another feature that helps you capture data on your customers – Pre-chat forms.
Before a chat gets initiated, your visitors will come across a form such as this: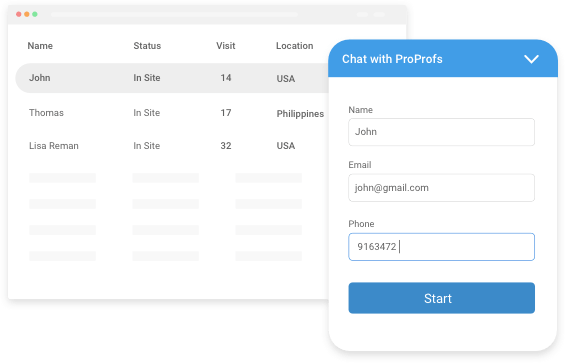 You can further customize this form to capture more useful information on your visitors hassle-free. Not only do you get to capture lead info, but you also get to understand the pain points of your potential customers and improve your services accordingly.
Other than that, you need to review the information your business collects across the website. That's because it will help you understand better what is working in your favor and which needs improvement. Once you add a live chat to your website, you get to capture the transcript between your operator and the website visitor. This will basically empower your team with various ways to provide customized support experience.
Here are some of the things which make live chat an excellent tool for building engagement:
Helps to identify the key trends

Understand the speed at which support is delivered

Areas where your agent excels

Identify the gap areas where your support team needs more training

What do the customers think about your business

Device and operating system used by customers to access your website

Time visitor spent browsing the website

Location of the customer
And, so on.
Now, besides these amazing benefits of live chat software, you can read others here.
However, as you read these interesting reasons why you implement a live chat to your website, you need to consider the following too:
Are you considering to add live chat to your website? Keep these pointers in mind:

Develop a strategy on how to approach customers through live chat

Hire people with experience of using live chat tool and train your existing team

Once service is implemented, include useful help options and chat features for customers

If there is a holdup, assure customers that agent will be with them shortly

Encourage customers to use live chat service
Importance of Live Chat Implementation

In the world of online business, the market demands a constant upgrade. With live chat, a company gets an opportunity to stay in touch with the customer's vision of desirable vendor and build a strong rapport. So, get connected with your online visitors today using live chat and help your business reach a new level of success.
---
Now that we have covered the reasons for implementing a live chat on the website, it is time we address some of the frequently asked questions below.
How do I set up live chat on my website?
Here's a simple step-by-step guide for you to implement live chat on your website here.
Why is live chat important for my business?
It's not just your sales that get to see the positive effects, your support services improve too. With live chat, your brand gets the opportunity to reach visitors instantly, understand their pain points, and provide then a personalized support experience hassle-free.
Does live chat improve conversions?
Yes, live chat does improve conversions. Check out this blog to know how it's done the right way.
How does live chat work?
Live chat works in various ways. It can work as a sales tool, support tool and even as a marketing tool. You can read this blog to learn how does a live chat really works for an organization.
Do you want a free Live Chat software?
We have the #1 Online Live Chat Software for instant customer support 24x7