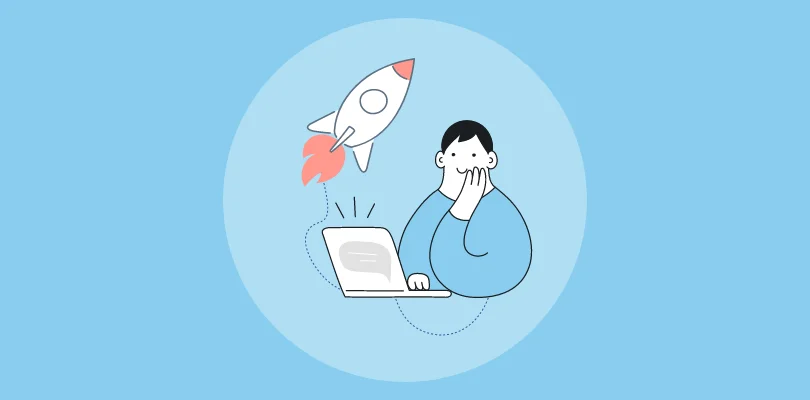 Being a startup owner is no walk in the park. The challenges are constant and abundant, from pricey marketing campaigns to worrying about employee salaries. So, how does one offer delightful customer service without going over budget in such turmoil?
Well, you're not alone. Live chat for startups can be the perfect solution you need to rise above your customer service woes.
Live chat can be a game-changer for startups and SMBs, providing an efficient and cost-effective way to communicate with customers. It allows businesses to respond to customer queries instantly, improve customer satisfaction, and increase sales.
With so many live chat options in the market, finding the right one can be overwhelming. In this article, we've compiled a list of the 17 best live chat tools that can help you upscale your startup in 2023.
Let's get started!
What is Live Chat?
Live chat is an online communication tool that enables real-time interaction between individuals using text-based messages. It is convenient to provide customer support and connect with website visitors, clients, or colleagues.
Live chat typically involves a chat box window, where users can type their messages, and a chat agent or a chatbot, responds promptly to their inquiries, questions, or concerns. It provides a fast and convenient way to communicate with customers without needing phone calls or emails.
17 Best Live Chat Solutions for Startups
Here are the top 17 picks for the best live chat solutions based on their features, pricing, and user-friendliness. These tools can help you improve your customer support and engagement.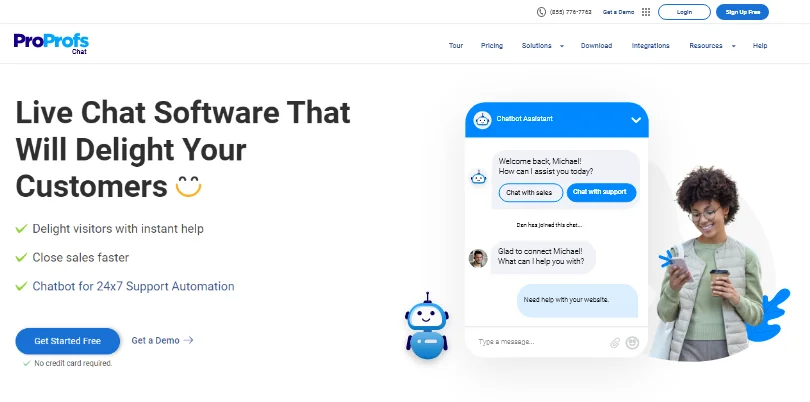 ProProfs Chat is the best live chat software for businesses looking to incorporate one into their websites. Canned responses available with this tool let you automate frequently asked questions. Your support agent can save the responses to common questions and use the same for future inquiries.
The tool also offers features like a chat queue, operator performance report, chat transcripts, and CSAT scores to improve your support efforts. This tool is good for startups looking for an advanced live chat solution.
Key Features:
Leverage chat transcripts to refer to past customer conversations.
Automate common inquiries with canned responses.
Set up automated triggers based on specific visitor actions.
Leverage metrics like average response time, chat ratings, and website traffic growth.
Pricing: Chat like a pro with a live chat free trial. ProProfs Chat offers a FOREVER-FREE plan for a single operator and a team plan for $19.99.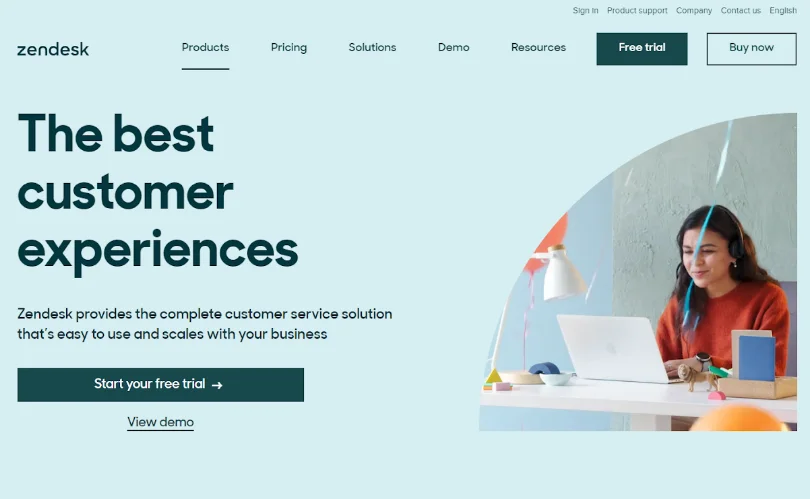 This is one of the best live chat tools to help you upscale your business. Zendesk lets you provide consistent customer support with its omnichannel presence and multi-device compatibility. You can offer round-the-clock support to your customers, thanks to this anytime-anywhere software.
You can access detailed reports and metrics when analyzing your support team's performance. Additionally, this platform lets you cater to a global audience with its multi-lingual support capabilities.
Key Features:
Offer 24/7 support to your customers.
Integrate with third-party platforms like Salesforce and Giphy.
Create personalized messaging with Sunshine Conversation's tools.
Route chats to a concerned support agent for swift resolution of customer queries.
Pricing: Starts at $49/agent/month.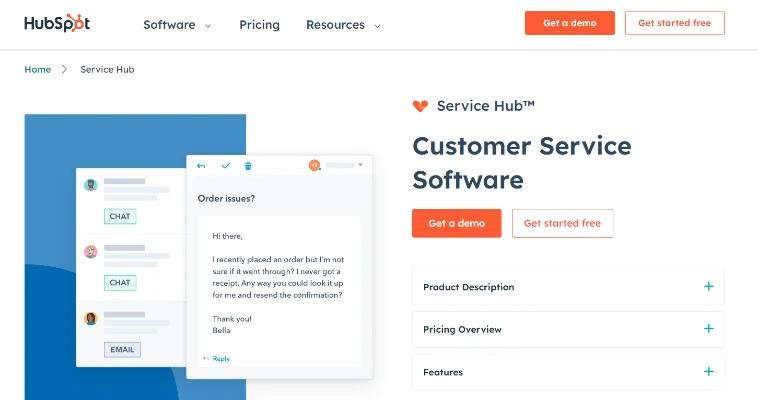 If you are a startup looking to take your lead generation to the next level, HubSpot can be your go-to software. This tool offers robust integrations that you can use to streamline your customer data management.
HubSpot's live chat is complemented by advanced chatbots that can help you automate responses to common inquiries. This tool automatically stores your conversations in a universal inbox on HubSpot's free CRM. This platform also lets you route chat to specific support agents when needed.
Key Features:
Customize your chat widget to match the look and feel of your brand.
Optimize chat automation to deliver fast responses to common customer queries.
Create support tickets, and schedule follow-up tasks from the conversation inbox.
Set office chat hours to let your customers know your availability.
Pricing: Starts at $0 (with limited features).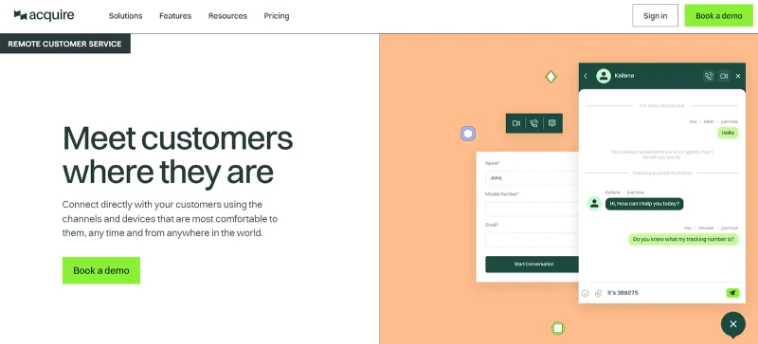 This is yet another tool that lets you connect with your customers in real time. With Acquire, you can offer instant support to your customers without compromising the quality of interactions. Acquire lets your agents pull up customer information, past conversations, and notes from other agents to offer a personalized experience to your customers.
You can even handle multiple conversations in a single view with Acquire's live chat widget. The tool supports 25+ languages, ensuring language isn't a barrier when extending customer support.
Key Features:
Offer round-the-clock customer support.
Initiate video calls from both agents' and customers' sides.
Refer to in-thread notes to get the context of customer interactions.
Route visitors to channels, pages, and agents based on behavior and demographic conditions.
Pricing: Starts at $500/month.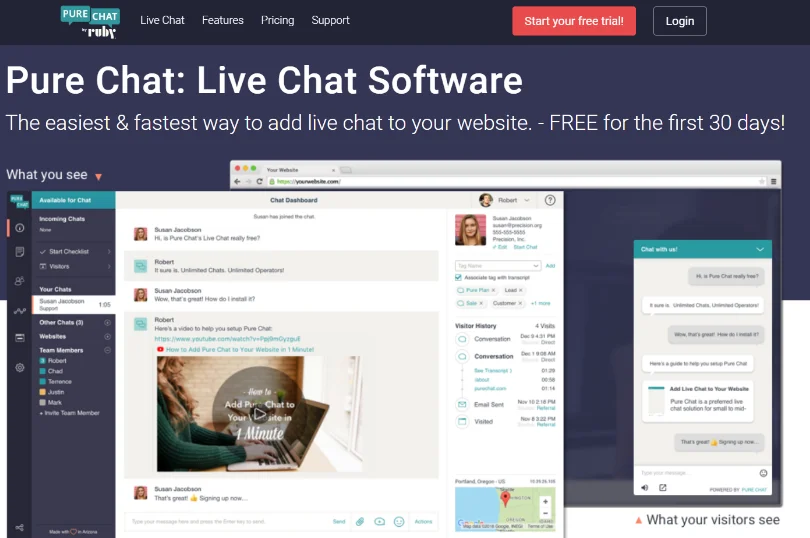 Pure Chat is a live chat software that gives complete control over how your chat widget looks and functions. The extensive customization offered by this platform enables you to provide a visually appealing chat interface to your customers.
With Pure Chat, you can easily improve your bottom line by turning your website visitors into customers. The tool supports iOS and Android devices so your customers can reach you, no matter what device they use. As an add-on, your operators can even share images and documents with its advanced file transfer feature.
Key Features:
Customize your chat widget extensively.
Qualify leads with pre-chat info forms.
Seamlessly integrate with third-party applications.
Use unlimited chat history to view past customer conversations.
Pricing: Starts at $49/month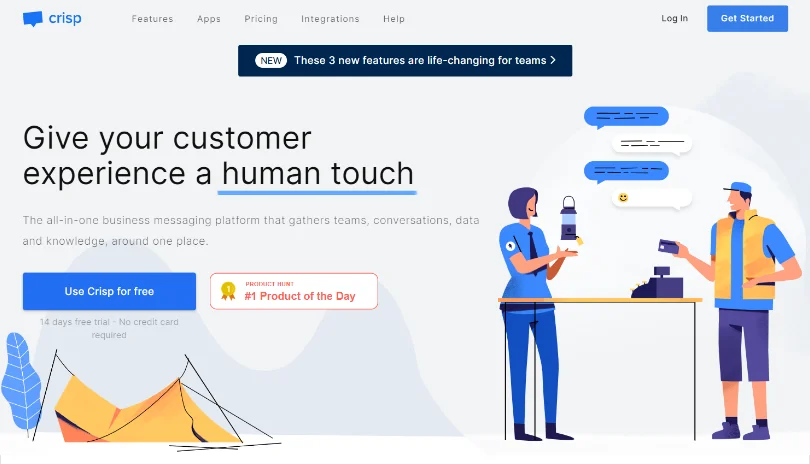 If you are looking for chat software with highly advanced features, Crisp is a tool you can't miss out on. This dynamic software comes with extensive customization options to strengthen your brand identity.
The tool offers access to detailed self-help articles to let customers solve their queries even before escalating them to live chat. Your operators can even create modern conversational experiences using GIFs and videos. Crisp's chatbot always comes in handy when you want to automate customer support.
Key Features:
Connect with social media platforms like Messenger and Instagram.
Automate customer onboarding with advanced chatbot scenarios.
Integrate with the knowledge base to offer self-help articles.
Conduct CSAT surveys directly from the chat widget.
Pricing: Starts at $0 (without chatbots and Messenger integration).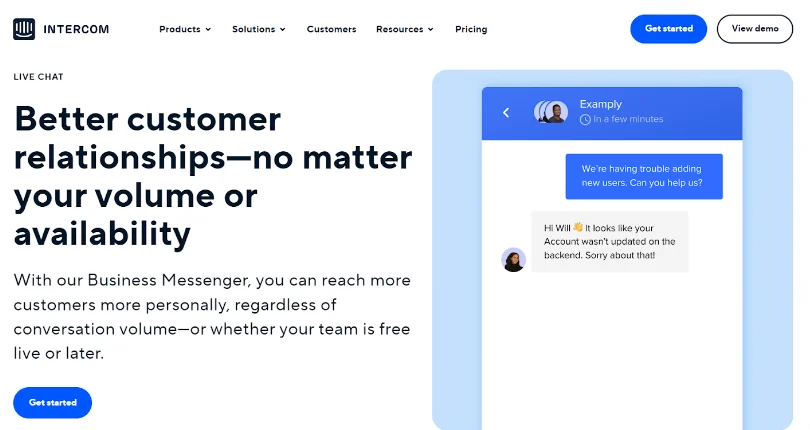 Intercom is one of the best live chat platforms on the market today. With this tool in hand, your support agents can engage customers right when they are about a purchase. Intercom offers your customers the flexibility to return to the chat exactly where they left off.
The software also offers bots to automate conversations, freeing your agents for more complex support requests. With proactive chat support, you can initiate conversations with your prospects even before they contact you.
Key Features:
Initiate conversations with proactive chat support.
Access all customer conversations from a single unified inbox.
Provide constant customer support on multiple channels.
Offer personalized support by analyzing context using a customer data platform.
Pricing: Get in touch with the company for a quote.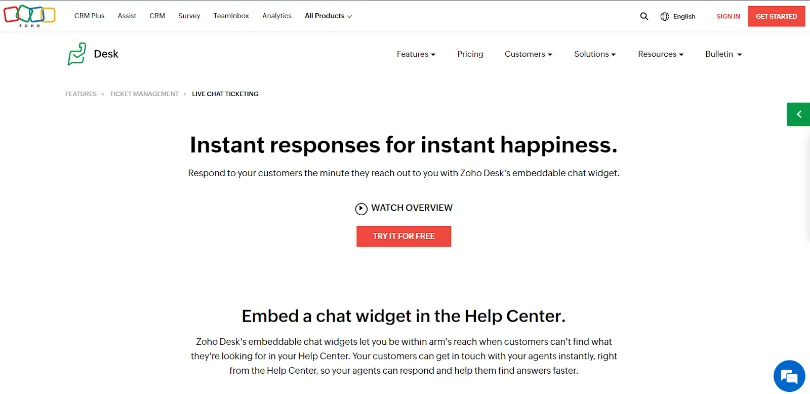 Zoho Desk's live chat is a feature-rich solution that empowers you to provide exceptional customer support. Its intuitive interface lets you chat with customers in real time, resolve their queries, and build long-lasting relationships.
The tool comes equipped with a range of powerful features, including AI-powered chatbots, pre-defined responses, and file-sharing. Plus, Zoho Desk integrates seamlessly with other Zoho apps and third-party tools, providing a comprehensive solution for all your customer support needs.
Key Features:
Set up a live chat with zero coding.
Generate automated triggers based on the prospect's behavior.
Automate customer data collection with an AI-powered chatbot.
Connect with customers in their native language with real-time translation.
Pricing: Starts at $0 (with limited features).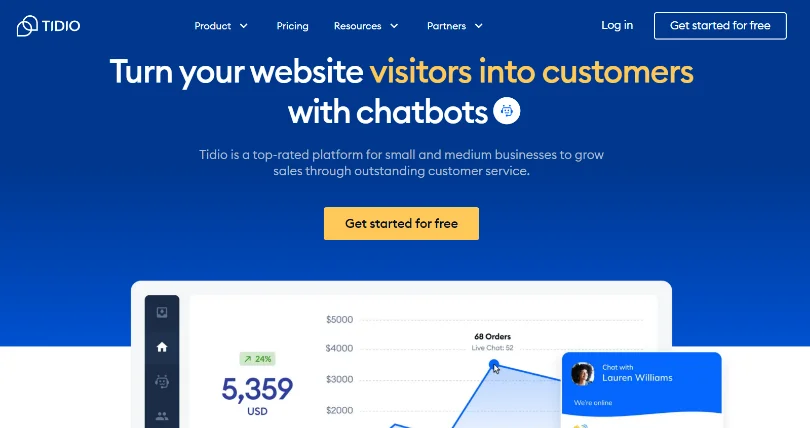 Tidio is another live chat platform that can engage with prospects to turn them into paying customers. With easy customization, this tool helps you enhance your brand awareness even on chat. The tool lets you change the appearance of your chat widget and personalize the chat window.
You can track your visitors' browsing pages to offer targeted messaging. Tidio also offers robust integration with platforms like Shopify, Messenger, WordPress, and many more.
Key Features:
Automate chats with AI-powered chatbots.
Leverage a mobile app to chat with customers on the go.
Respond to common customer queries with canned responses.
Optimize the live typing feature to see what your customers are typing.
Pricing: Starts at $15.83/month.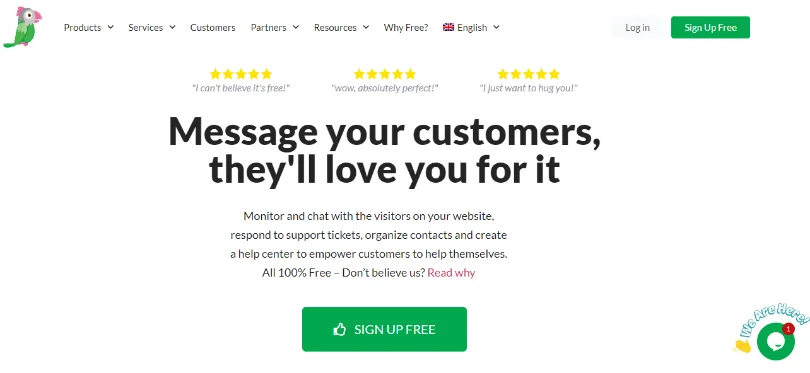 Tawk.to is a cloud-based messaging application that enables you to communicate with your customers in real time through website or mobile app. It provides features such as chatbots, analytics, and customization options to improve customer engagement and support.
With Tawk.to, you can manage multiple conversations simultaneously, automate responses, and track visitor behavior to optimize their online communication strategy. It is free to use and supports integration with various third-party platforms.
Key Features:
Leverage an easy-to-set-up chat widget with zero code.
Offer multi-lingual support in 45+ languages.
Use detailed reports to analyze your operator performance.
Optimize canned responses to answer frequently asked questions.
Pricing: Starts at $0 (free forever).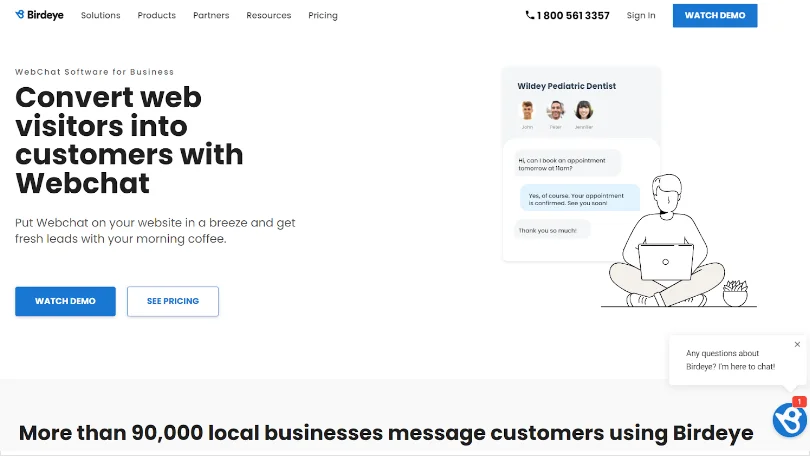 Birdeye's live chat tool is a powerful platform that connects with your customers efficiently. The software lets you customize the chat widget to match your brand and capture leads 24/7. Its chatbot feature can help answer common questions and even assist them through their website journey.
You can also track chat conversations and access chat history, making it easy to follow up on customer inquiries. Birdeye's live chat seamlessly integrates with your website and can be accessed via a mobile app to let you engage with your customers on the go.
Key Features:
Offer 24/7 support to your website visitors.
Route chats to the right team to resolve customer queries.
Manage all customer conversations from a single unified inbox.
Track active conversations, response time, and website page performance.
Pricing: Get in touch with the company for a quote.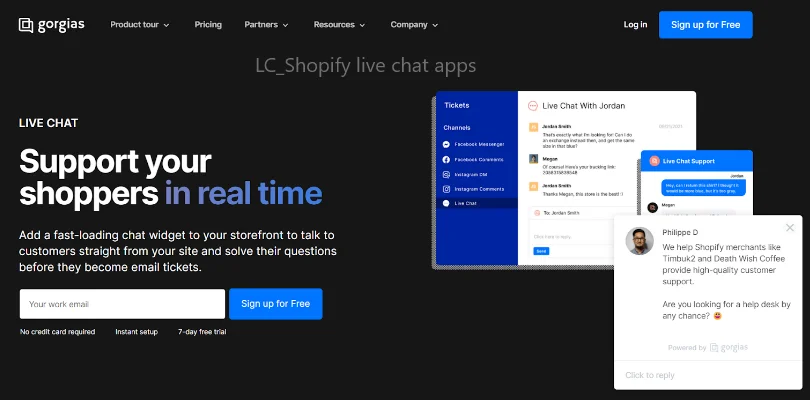 Gorgias is one of the best live chat software for startups. The tool's advanced features help you streamline customer support and increase sales. Its real-time chat lets you quickly respond to your customers' queries and concerns, improving customer satisfaction.
The platform also offers automated responses and chatbots to handle routine tasks like order tracking and refunds. Its powerful integrations with e-commerce platforms like Shopify and Magento make it easy to manage all customer communications in one place.
With Gorgias, you can track customer order history and provide personalized recommendations, increasing your sales and customer retention.
Key Features:
Offer proactive support with chat campaigns.
Provide self-service flows to reduce support requests.
Route chat to fellow agents, both, manually and automatically.
Connect with your Shopify store to update orders, issue refunds, etc.
Pricing: Starts at $10/month.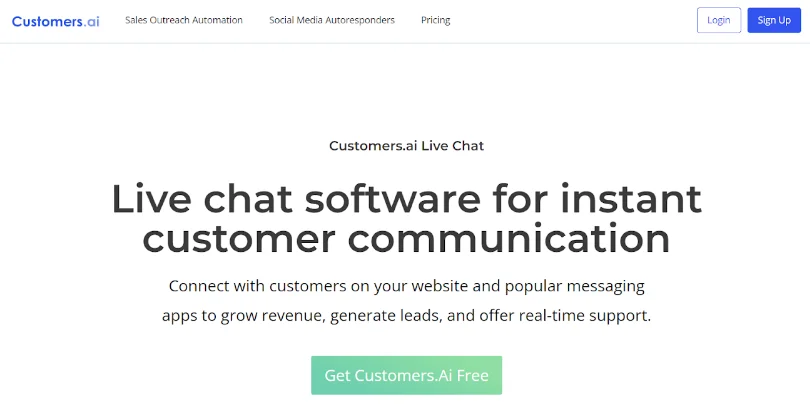 Mobile Monkey is a powerful live chat tool that allows you to engage with website visitors and customers in real time. With its easy-to-use interface and powerful features, this tool enables you to provide instant support, answer customer queries, and even generate leads through its AI-powered chatbot.
With Mobile Monkey, you can customize the chat experience to match your brand and website and track key metrics to measure the success of your live chat efforts. Whether you're looking to boost customer engagement, improve support, or drive sales, Mobile Monkey live has got you covered.
Key Features:
Customize your chat widget to match your brand style.
Optimize a unified inbox for all multi-channel.
Route chats to a suitable support agent.
Segment your website visitors based on their location.
Pricing: Get in touch with the company for a quote.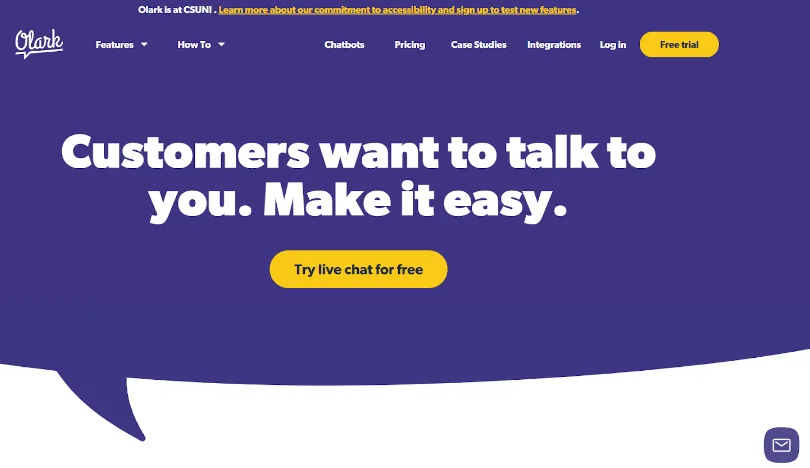 If you're looking for a powerful live chat solution to engage with your website visitors, Olark is the way to go. With Olark, you can communicate with your customers in real-time, answer their questions, and provide them with the support they need to become loyal customers.
Olark's user-friendly interface makes it easy to set up and customize your chat widget to match your website's branding. Plus, Olark offers advanced features like automated messaging, chat transcripts, and integrations with popular CRM and marketing tools.
Key Features:
Leverage pre-chat forms to gather customer information.
Store chat transcripts to refer to past customer conversations.
Send automated triggers to offer suggestions and special offers.
Optimize chat metrics and customer feedback with real-time dashboard.
Pricing: Starts at $29/month.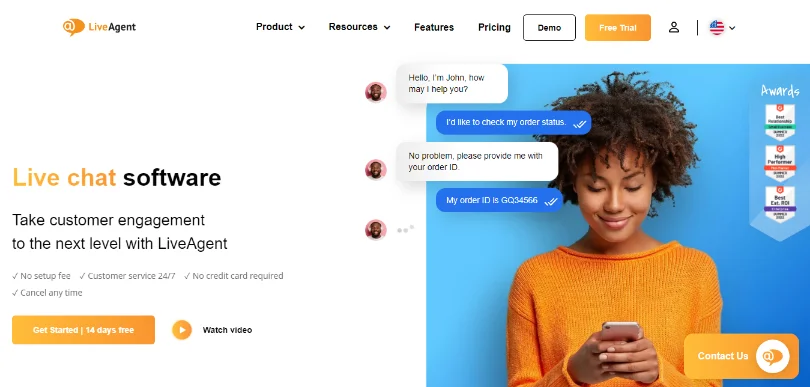 LiveAgent live chat is a powerful tool that allows you to engage with your customers in real time. With a user-friendly interface, you can easily manage customer inquiries, provide support, and increase sales.
The software allows you to customize your chat widget to match your brand, use canned responses for faster replies, and integrate with social media and email. You can increase customer satisfaction and conversions with real-time visitor monitoring and proactive chat invitations.
Key Features:
Optimize internal messenger to chat with fellow agents.
Engage customers with proactive chat invitations.
Track live chat sessions in Google Analytics.
Monitor your customers' browsing history.
Pricing: Starts at $9/agent/month.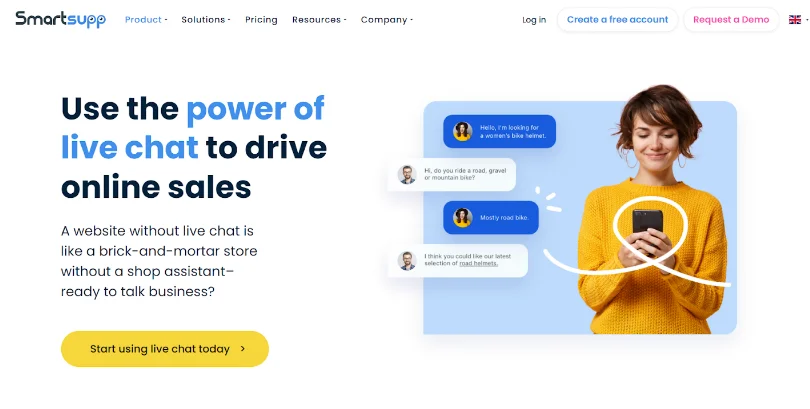 Smartsupp is a top-rated live chat and visitor recording software that helps you connect with your website visitors in real time. With Smartsupp, you can chat with your customers and provide them with personalized support to improve customer satisfaction.
One of the key features of this tool is its visitor recording feature, which lets you watch replays of your customer's interactions on your site. This can help you better understand your visitor's behavior and improve your website's user experience. With Smartsupp, you can easily track your chat conversations and access detailed analytics to measure your performance.
Key Features:
Optimize a single dashboard for all multi-channel chats.
Automate common customer queries with a chatbot.
Analyze missed purchase opportunities with in-depth metrics.
Pair video sessions with live chat for comprehensive customer interaction.
Pricing: Starts at $0 (without chatbot).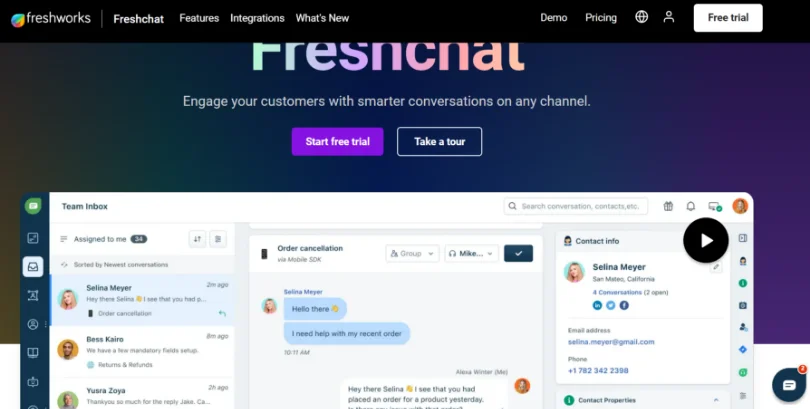 FreshChat is an all-in-one messaging platform that offers a wide range of features to help you connect with your customers. With this tool, you can offer live chat support and complement it with popular messaging channels like WhatsApp and Facebook Messenger.
One of the standout features of FreshChat is its AI-powered chatbots, which can help you automate your customer support processes and provide quick, personalized responses to common queries. Additionally, the tool offers seamless integrations with popular CRM and marketing tools, making managing customer interactions and data accessible.
Key Features:
Deliver personalized customer conversations by analyzing chat context.
Provide multi-channel support to help customers wherever they are.
Integrate with the knowledge base to offer self-help articles.
Offer personalized customer assistance by accessing details like past purchases and open issues.
Pricing: Starts at $0(with limited features).
Read More:  Best Live Chat Software & Services for Website Customer Support in 2023 
Benefits of Live Chat for Startups and SMBs
Live chat is a powerful tool for startups and small and medium-sized businesses (SMBs) to engage with their customers in real time. Here are the top benefits it can serve your business:
1. Proactive Engagement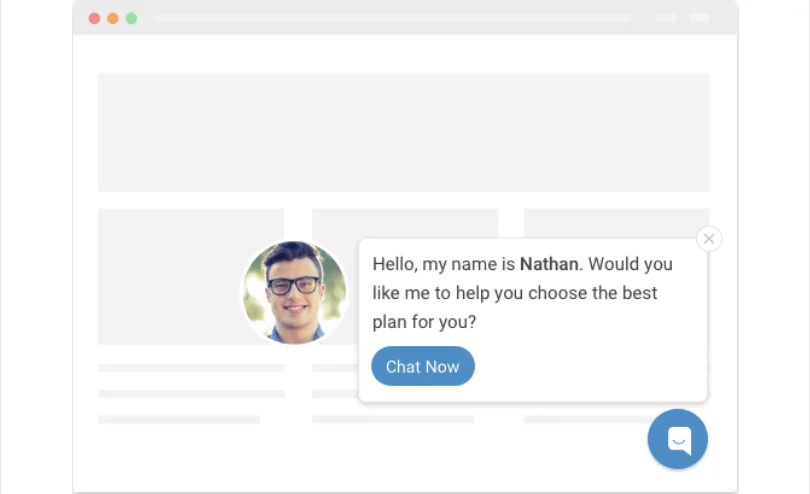 Live chat enables startups and SMBs to engage proactively with their website visitors and customers. With proactive chat invitations, you can send automated greetings to grab the customers' attention even before they reach out to you.
This helps businesses to create a positive customer experience, as visitors feel valued and supported. Proactive engagement also helps reduce bounce rates and increase website conversions, as visitors are more likely to stay on the website if they receive assistance and guidance in time.
2. Offer Round-the-Clock Support
Live chat allows businesses to offer round-the-clock support to their customers. This is particularly beneficial for startups and SMBs, as they may need the resources to provide 24/7 phone or email support.
Most live chat tools come embedded with chatbots that help you offer customer support even during off-hours or holidays. This helps improve customer satisfaction and retention, as customers feel confident they can get help whenever needed.
3. Understand Your Visitors' Intent
This tool enables you to identify the intent of your website visitors in real time. By analyzing visitor behavior and engagement, you can gain valuable insights into the needs and preferences of your target audience.
You can this information to personalize the customer experience, offer targeted promotions, and improve product offerings. Visitor intent identification also helps you prioritize customer service inquiries based on their urgency and importance.
4. Improve Team Performance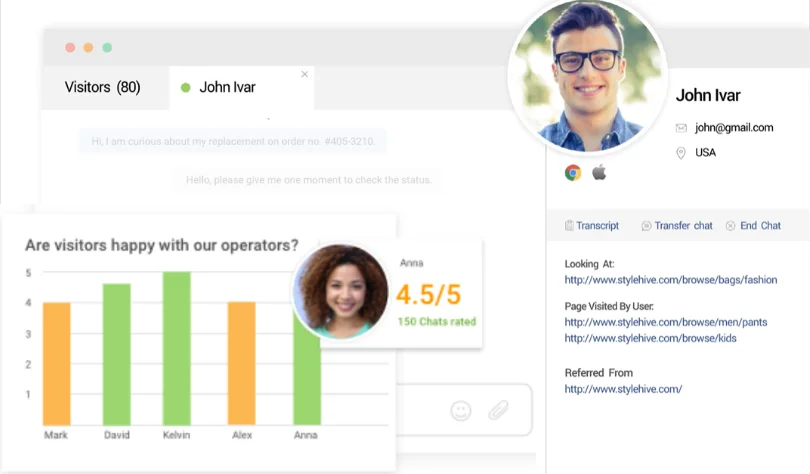 Live chat provides you with a centralized platform for managing customer service inquiries. This helps improve team performance, as customer service representatives can collaborate and share knowledge to resolve queries more efficiently.
It also lets you track customer service metrics, such as response times, resolution rates, and customer satisfaction scores. Using this data, you can identify improvement areas and optimize your customer service process.
5. Automate Support With Chatbots
Live chat can be augmented with chatbots to automate routine customer queries. Chatbots can provide customers with instant responses to common questions, such as product information, pricing, and shipping details. This helps reduce the workload of customer service representatives and enables them to focus on more complex inquiries.
Chatbots can also improve the speed and accuracy of customer service responses, as they can analyze questions and provide relevant information in real time.
Thus, live chat is essential for startups and SMBs wanting to improve customer engagement, increase conversions, and provide high-quality customer support.
How Does Live Chat Work?
Live chat is a communication channel that you can provide to help your customers get the needed support. It works through a chat button on your website, which customers can access to get in touch with the support agents.
It offers your customers a quick way to get answers to their questions rather than wait on a call or email support. The following section covers how live chat works for businesses and customers individually:
For Businesses
From the perspective of businesses, live chat works by providing a platform for customer support agents to engage with customers in real time. Businesses typically use a software program that enables live chat functionality, which can be integrated with their website or other digital channels.
When a customer initiates a live chat session, the chat request is routed to an available customer support agent, who can then respond to the customer's inquiry. The chat window allows the operators to customize it according to their business requirements.
It includes features like accessing visitors' geolocation, managing chat transcripts, setting up chat queues, and many more. Here's what an operator chat window looks like for a business: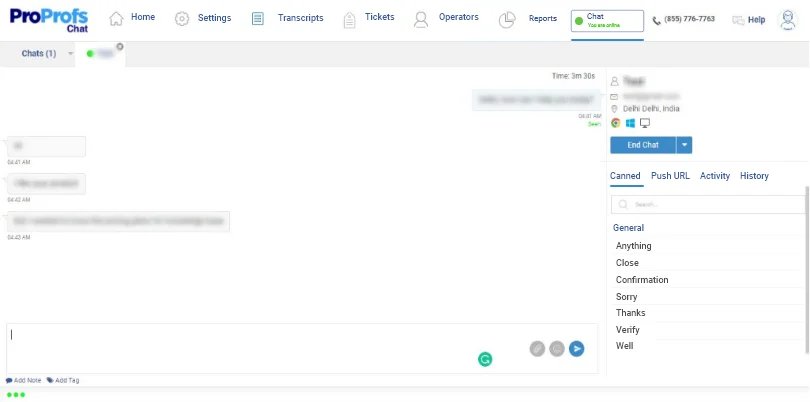 For Customers
From the customers' perspective, live chat works by providing a convenient and efficient way to communicate with businesses. Customers can initiate a chat session with a support agent by clicking a chat button or icon on the business's website or digital channel.
Once the chat session is initiated, customers can ask questions, describe their issues, and receive real-time assistance from the support agent. It also allows customers to multitask while engaging in a live chat session. They can continue browsing the website or performing other tasks while waiting for the support agent's response.
Live chat can also be helpful for customers who are not comfortable speaking on the phone or have hearing impairments. Here's what the visitor chat window looks like:
Read more for an in-depth understanding:  How Does Live Chat Work?
| Software | Capterra Rating | Free plan | Free Trial | Paid plan starts at |
| --- | --- | --- | --- | --- |
| 1. ProProfs | 4.8 | Yes | Yes | $19.99/operator/month |
| 2. Intercom | 4.5 | No | Yes | $74/month |
| 3. Gorgias | 4.7 | No | Yes | $10/month |
| 4. Tidio | 4.8 | Yes | Yes | $15.83/month |
| 5. FreshChat | 4.1 | Yes | Yes | $12.22/month |
Boost Your Sales With the Best Live Chat for Startups
In today's business landscape, providing top-notch customer support is crucial to the success of any startup. Research shows that a significant 61% of B2B customers prefer to engage with businesses through live chat. Ignoring this vast customer base could lead to missed opportunities and lost revenue.
Therefore, leveraging modern solutions like live chat is imperative to enhance operator productivity and customer engagement. To lighten up your workload, we have curated a list of the 17 best live chat platforms for startups available in the market.
Among these, ProProfs Chat stands out as an affordable yet effective live chat solution that can elevate customer engagement and improve sales. With features like proactive chat invitations, canned responses, and operator timesheets, ProProfs can help you streamline your customer support operations and boost sales.
So, why wait? Try ProProfs Chat today and experience the difference it can make to your business!
FAQs
Do you want a free Live Chat software?
We have the #1 Online Live Chat Software for instant customer support 24x7