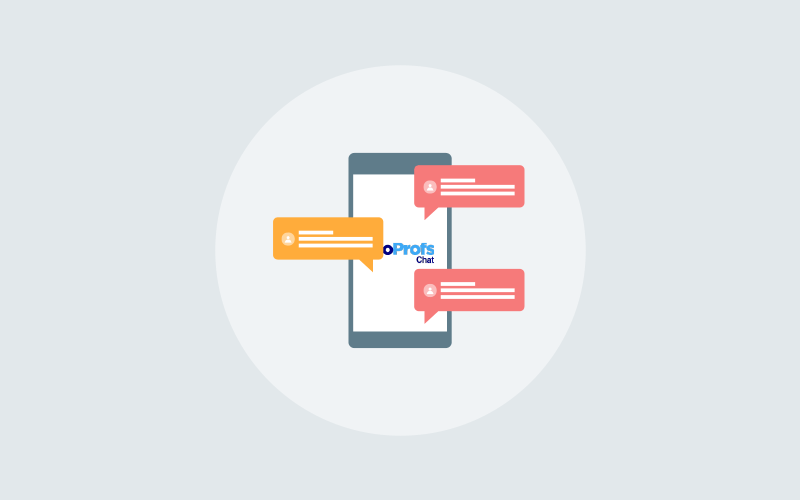 Like any other customer service channel, live chat also raises the bar on customer expectations which you are obligated to fulfill in order for you to sustain long term relationships with your customers and enhance your customer base. If you look at this metric closely, you will notice that this is a two-way partnership when it comes time to deliver the goods. It is a partnership between your company, which provides live chat service to your customers, and our company which provides you with the on demand nuts and bolts technologies to enable you to deliver a superior quality user experience through live chat. At ProProfs Chat, we take this partnership with your company very seriously which is why we:
– Work round the clock to frequently update our live chat application
– Send you a newsletter twice a month to keep you posted regarding our new features and updates
– Stay on top of everything mobile so that your chat reps can deliver the exact same live help service as they do from their work stations
– Watch industry trends closely so that we can bring you those apps and plugins that will always keep your company well ahead of your competition
– Monitor the performance of our live chat application on your website in real time 24X7X365 for stability, resilience and reduced response times
– Upgrade our server technologies the moment we get a chance to do so
There are at least a dozen more things we can add to this list. However, we are sure you get the picture. So how can we join hands with you, further cement our relationship, and watch out for your customers together? We would like to share a few suggestions:
Update Frequently
The information technology industry is perhaps the most volatile industry on the planet with new milestones being reached literally every hour. This is precisely why we remain fully focused at all times on updating our dedicated live chat application. Please download these updates and install them so that your customers always experience the best. Updates are free and also address any issues that may have cropped up in our live support application. There is one more thing our updates do. We receive numerous suggestions from clients like you which we routinely include in our updates. So don't be surprised if you find one of your suggestions being showcased in a future update!
Train your Chat Reps
Customer expectations will always remain high when they arrive on your website and initiate a web chat session. They expect that you will:
– Not ask them to line up in a chat queue
– Answer their questions promptly without their having to hang around and twiddle their thumbs
– Provide answers that are totally accurate
– Use language that is grammatically correct, polite and not too informal
– Achieve issue resolution in record time
Alert us instantly
If you ever experience a challenge with a feature in our chat application, let us know immediately. We are always standing by to provide you with support through email and live chat and will resolve your issue before you know it!
Concluding thoughts
A recent study from Oracle found live chat to have the highest Customer Satisfaction Score (CSAT) among all the online service and sales channels. Live chat not only registered a 35% – 75% increase in agent productivity, it also reduced inbound phone calls and email messages significantly, according to the study. Given these set of circumstances, there are enough reasons why you should assign top priority to live chat among your service channels. What strategies have you implemented to address the expectations of your customers when using live chat on your website? What are some of the things your customers have shared with you about their live chat experience while rating the service? We would love to hear from you through the blog comments.
Do you want a free Live Chat software?
We have the #1 Online Live Chat Software for instant customer support 24x7